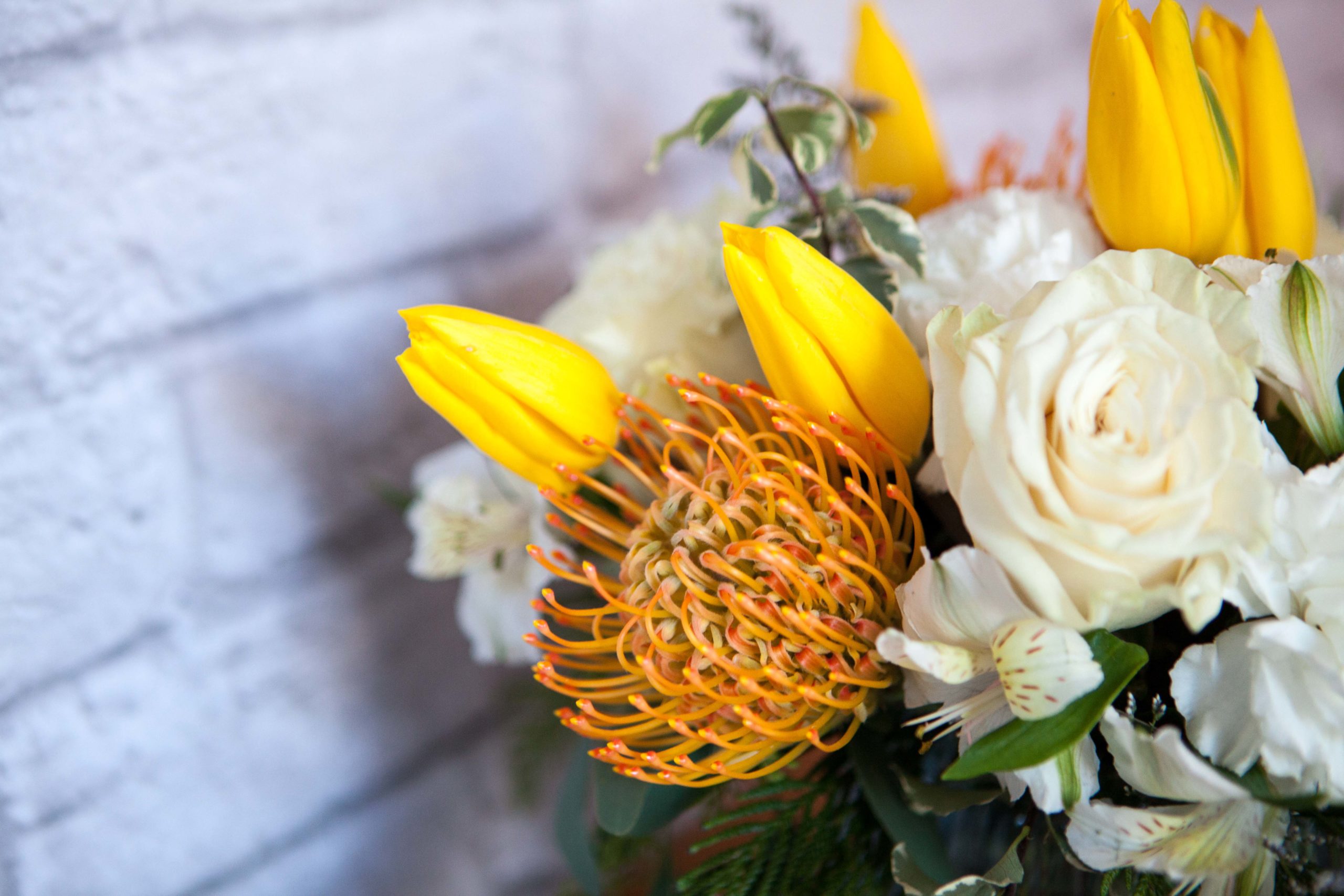 Here are some questions people sometimes ask me. If you have a question that isn't addressed here, feel free to contact me.
Where is your shop located?
I do not own a traditional brick-and-mortar flower shop. I work out of my home studio on in southside Anchorage.
What are your shop hours?
Because I don't own a brick-and-mortar shop I do not have traditional store hours. Typically when people pick up from my home studio I set up a half hour window of time for them to stop by between 9 a.m. and 1 p.m. or after 4 p.m. during the week.
Do you deliver flower arrangements?
I do! I deliver within the Anchorage area for a fee ranging from $10-20. I have a $45 delivery minimum.
Do you do same day orders?
Because I am a part-time florist and I have a different job during the week, I typically require at least 24 hours' notice for orders. Due to the influx of subscriptions and orders as of late, I recommend placing your order at least 48 hours in advance as I am only able to deliver 5 orders a day - I've been filling up fast!
Wait, you're something other than a florist?
Yes, I work part time for a small marketing firm in Anchorage.
When can you deliver during the week?
I can deliver between 1:30 and 2:30 p.m. Tuesday-Friday and between 10 a.m. and 2 p.m. on Saturday.
Do you deliver to homes?
As long as the recipient is home during my delivery route of 1:30-2:30 during the week, I can deliver to residences. If the temperature is below 37 F I am unable to set flowers outside if the recipient is not home.
Why do you ask for the recipient's phone number for deliveries?
Again, it is so hard to predict whether a person will be home for a delivery and because of my limited delivery schedule I will typically call before delivering. Don't worry! I don't give away the surprise. I usually say "I have a special delivery for you. Is this a good time to stop by?" If not, I will schedule a better time to deliver.
What if someone isn't home when you deliver?
I will call the person again and try and schedule a better time to deliver. After this attempt, I will give the recipient the opportunity to pick up the order from my southside home studio the following day.
I'm getting married. Can I get a quote for flowers?
Each wedding is different. In order to give you a quote, I ask you fill out my consultation form so I can get a better idea of what you're looking for. Knowing the numbers of bouquets, boutonnieres, corsages, centerpieces and other floral decor ahead of a consultation will help me give you an accurate estimate.
I have a Pinterest board full of gorgeous bouquet photos. Can you replicate these bouquets?
Pinterest is a blessing and a curse. Although it gives me an idea of the style and colors you're looking for, often what you see on Pinterest is not available to everyday florists, especially in Alaska. Many flowers featured in top Pinterest posts are seasonal designer blooms that can only be purchased where they are grown during a certain time of year. Many flowers, such as dahlias, Japanese ranunculus, hellebore and anemone don't ship well up to Alaska and are extremely expensive. I am unable to guarantee availability of blooms such as these and I recommend I create floral designs that match the style you're looking for using blooms available to us here in Alaska. I can still create a gorgeous boho bouquet for you! Due to the unpredictable nature of the floral industry during the pandemic, if you're looking for elopement or microwedding flowers, I ask you to provide 1-3 preferred colors and to peruse her Instagram feed to find a few bouquets you like best. I will use what's freshest and in season locally within your preferred palette and style.
I want a bouquet full of Alaska wildflowers. Can you do that?
I love me an Alaska bride! I often incorporate Alaska elements into my designs, but most wildflowers don't do well out of water. They also often are rife with bugs. Flowers such as fireweed and forget-me-nots wilt instantly in a bouquet so I don't recommend them. I suggest incorporating commercial blooms that resemble wildflowers. That way your bouquet will hold up all day long for photos and the toss!