We love creating fresh floral arrangements for any occasion. From birthdays to anniversaries, there's always a time to express your care and admiration through flowers. Have a look at some of our options below* and e-mail us if you'd like to place an order. We will get back to you within 24 hours with a quote. Delivery within Downtown and Southside is $10. If outside these areas, please let us know your location upon ordering and we can provide you a delivery quote.
During wedding season (May-August) we are only able to process/deliver arrangement orders Tuesday-Thursday.
*Please note: the descriptions below are arrangement styles and sizes. When you order an arrangement it may not contain exactly the same flower types and colors as depicted. If you'd like specific blooms or colors, please let us know and we'd be happy to accommodate you when able.
This tall arrangement with stock, roses, mums, carnations, and a fun focal bloom is a refreshing break from the typical red rose bouquet. Named for one of the most romantic lookouts in Anchorage, it's a perfect way to say "I love you."
Order Me!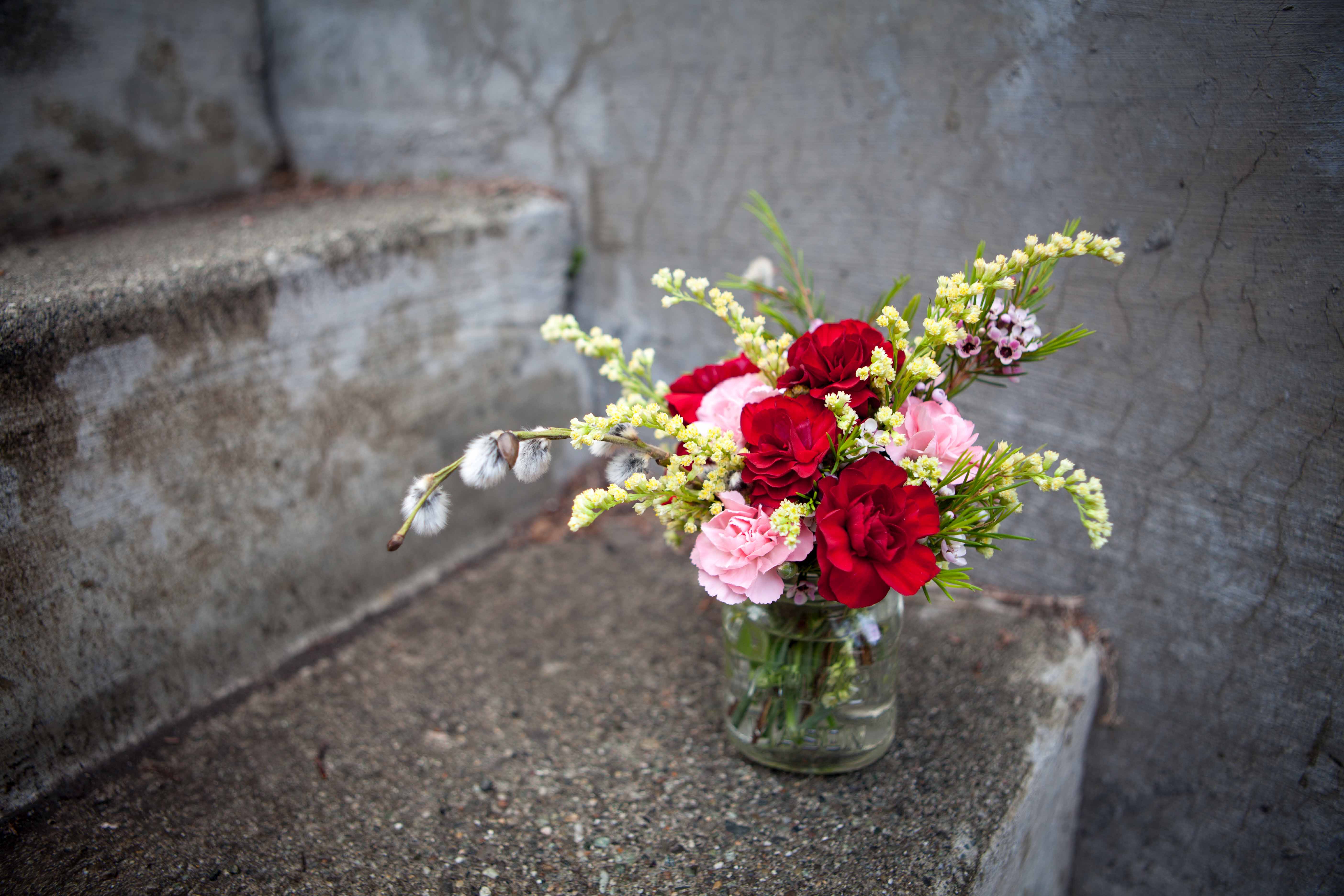 This bouquet is made in a tiny jar or miniature vase. It's a wonderful gift for a co-worker or anyone needing a little splash of color in their lives. Colors vary depending on what's fresh in the studio that week.
Order Me!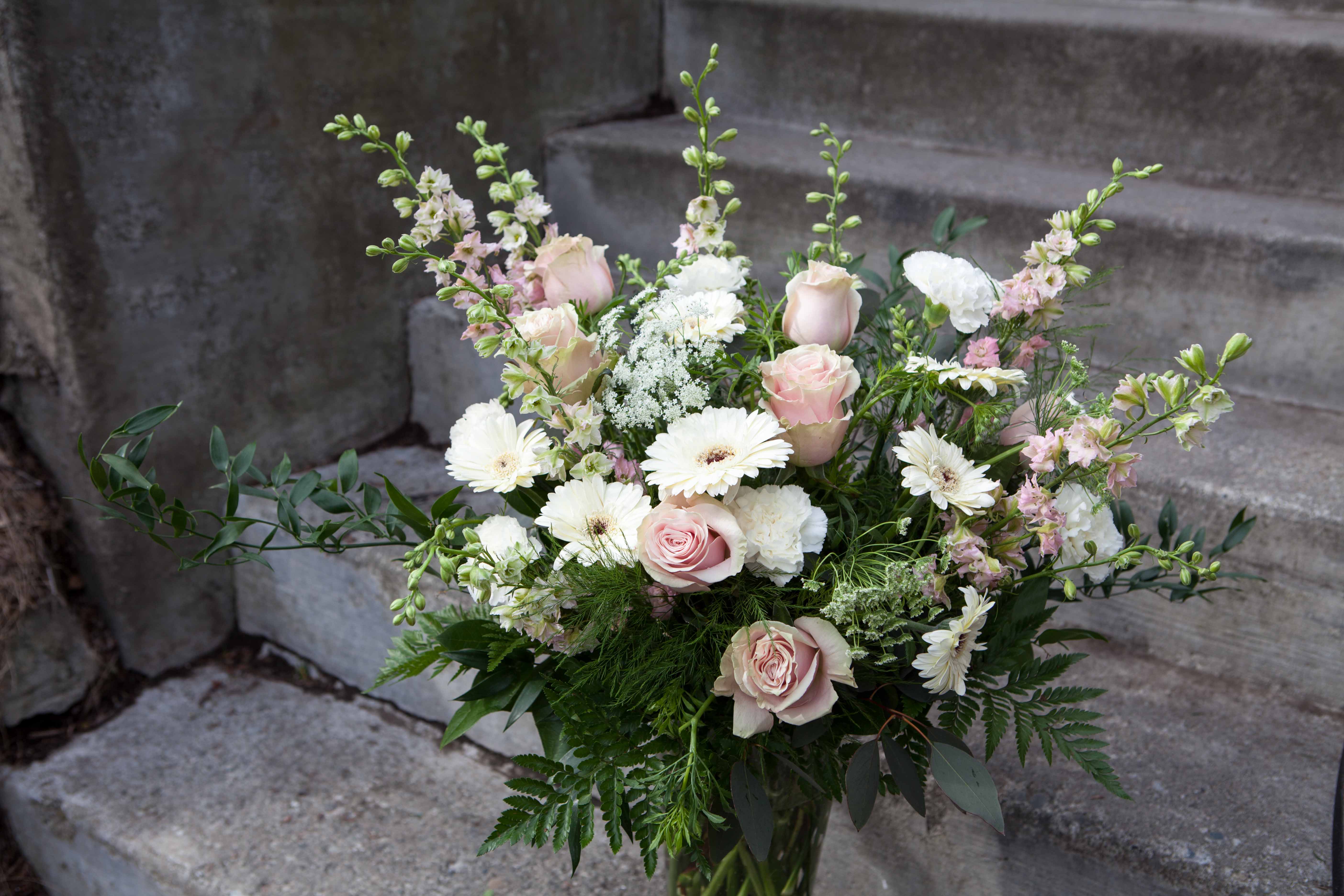 Roses and gerberas in pale pink and cream with lacy larkspur in a tall vase – this abundant arrangement is all class and aptly named after the South of Nordstrom district of downtown Anchorage.
Order Me!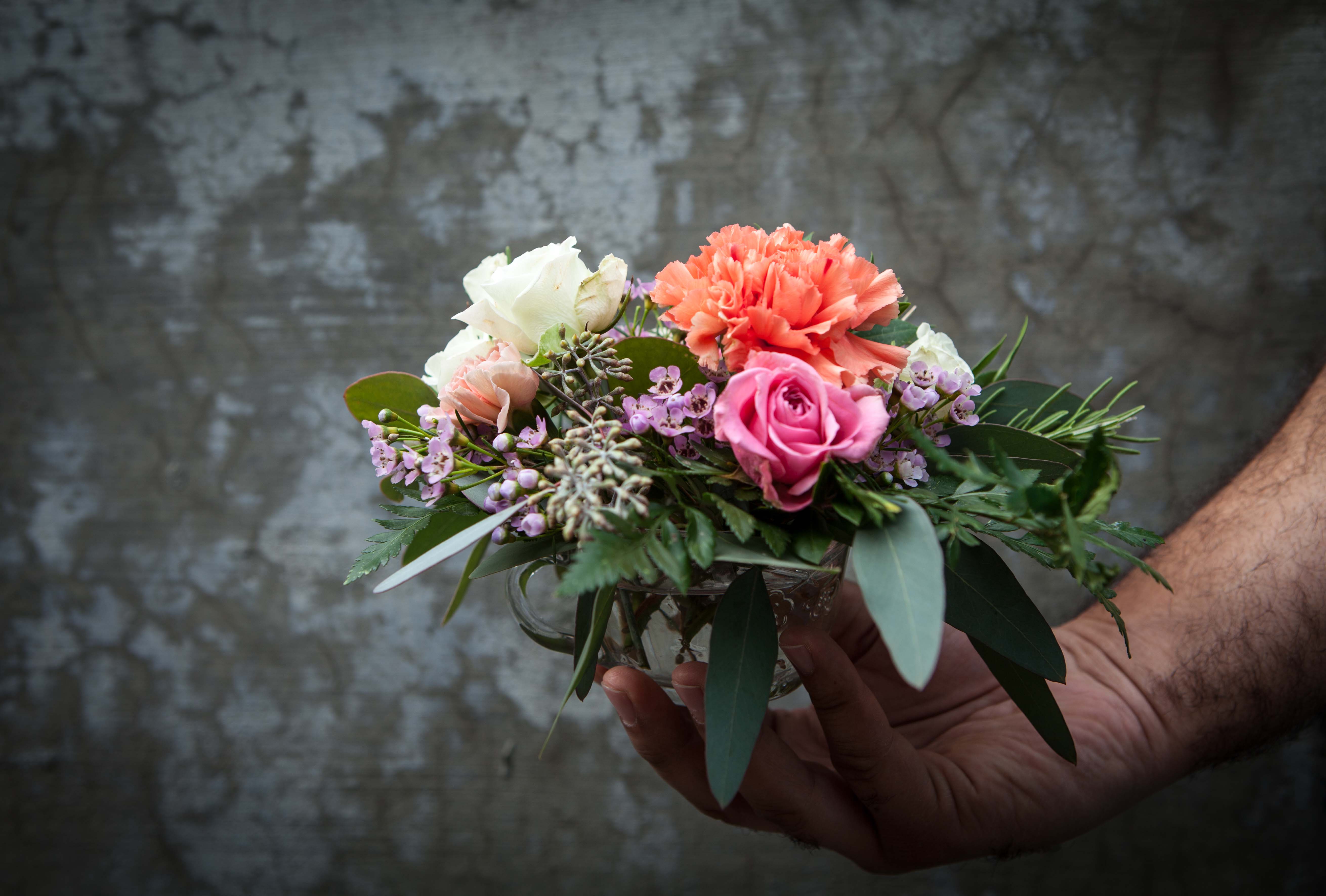 This adorable bouquet is the perfect way to say "Thanks for collecting my mail while I was in Seattle for a long weekend." Arranged in a vintage teacup, this little lady is just the right amount of color and greenery. Colors vary depending on what's fresh in the studio that week.
Order Me!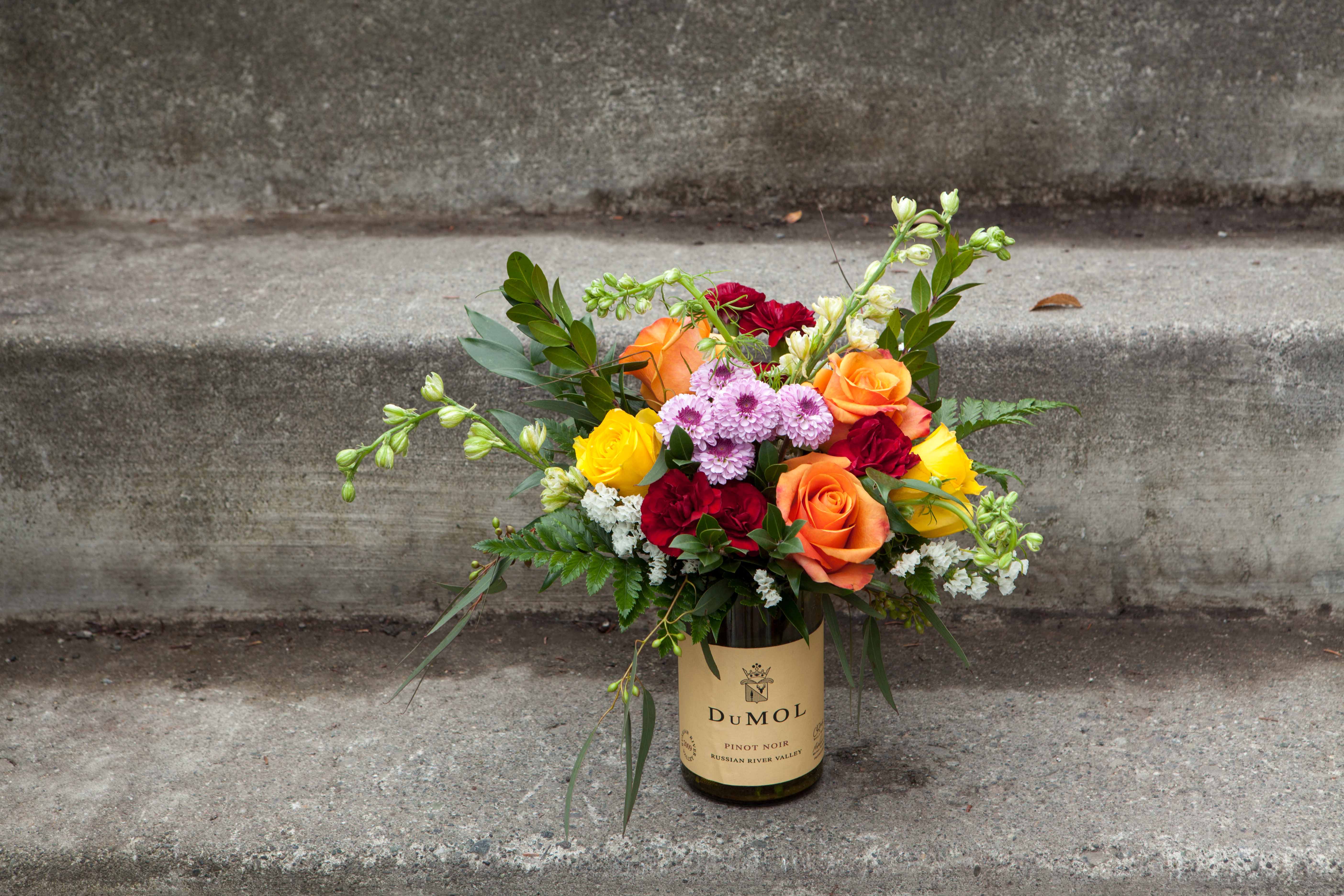 Slightly larger than The Fairview, France Meets Fairview is arranged in a unique wine bottle vase. Each bottle is different and so is each arrangement. Rest assured this little bouquet packs a punch and is overflowing with color, texture and greenery. Colors vary depending on what's fresh in the studio that week.
Order Me!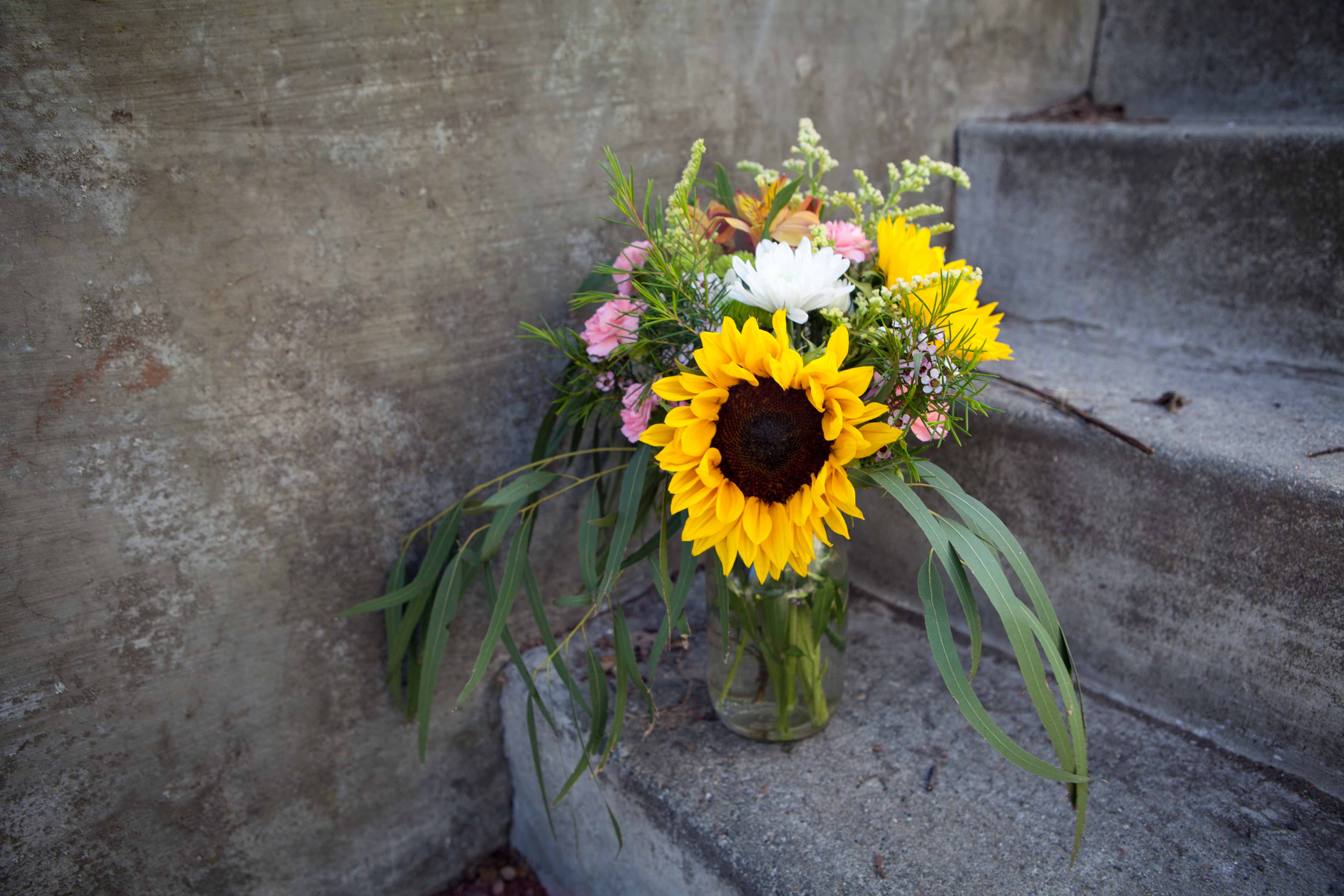 This arrangement is eclectic, colorful and just a hint of hipster. Named for the iconic Anchorage neighborhood, this medium-sized bouquet comes in a timeless Mason jar.
Order Me!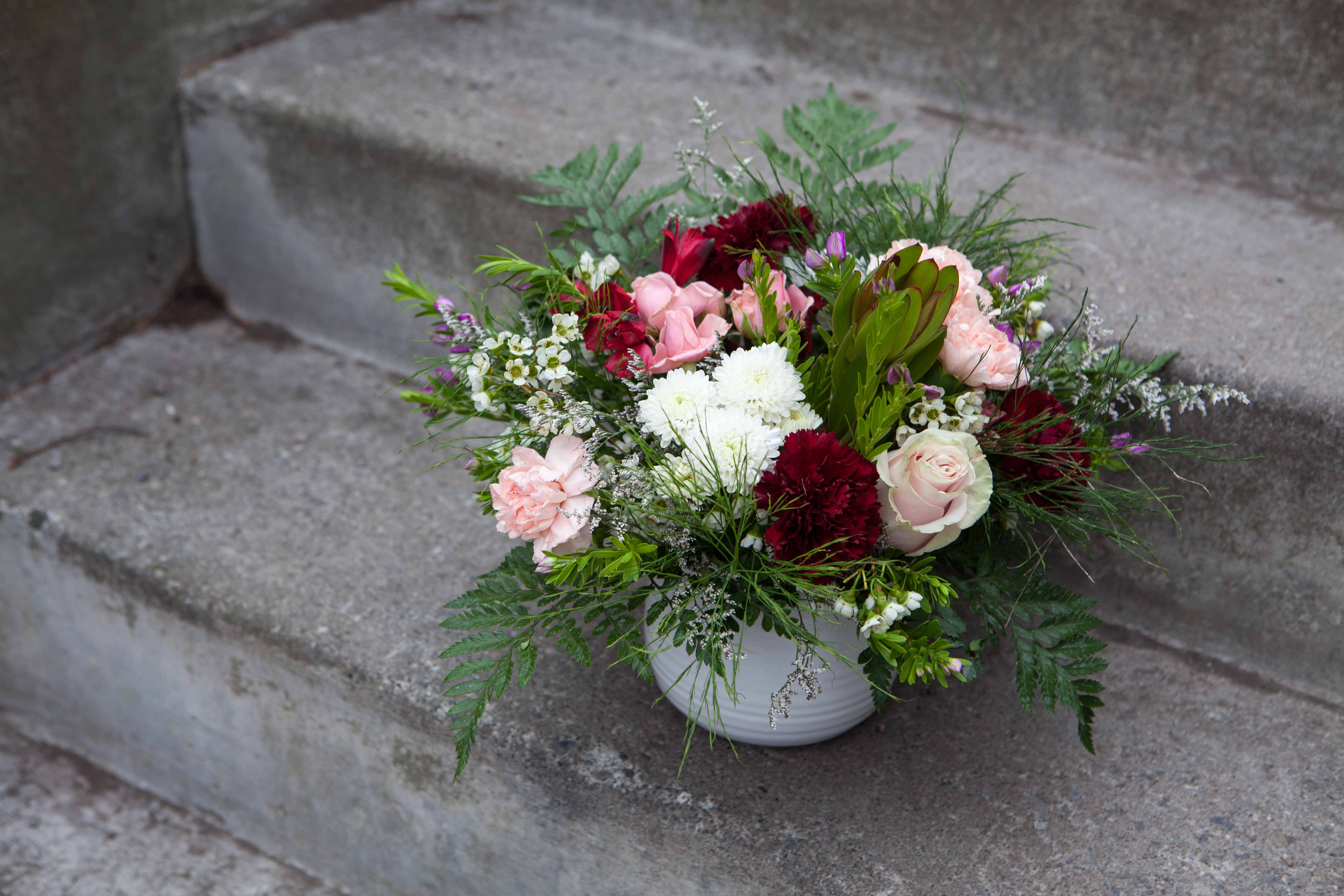 This sweet arrangement is beautiful, not over-the-top, and appropriate for several different occasions. Designed in a stout, wide-mouthed or a glass cube vase with seasonal blooms, it's a great way to show your appreciation for someone. Just let us know the colors you prefer!
Order Me!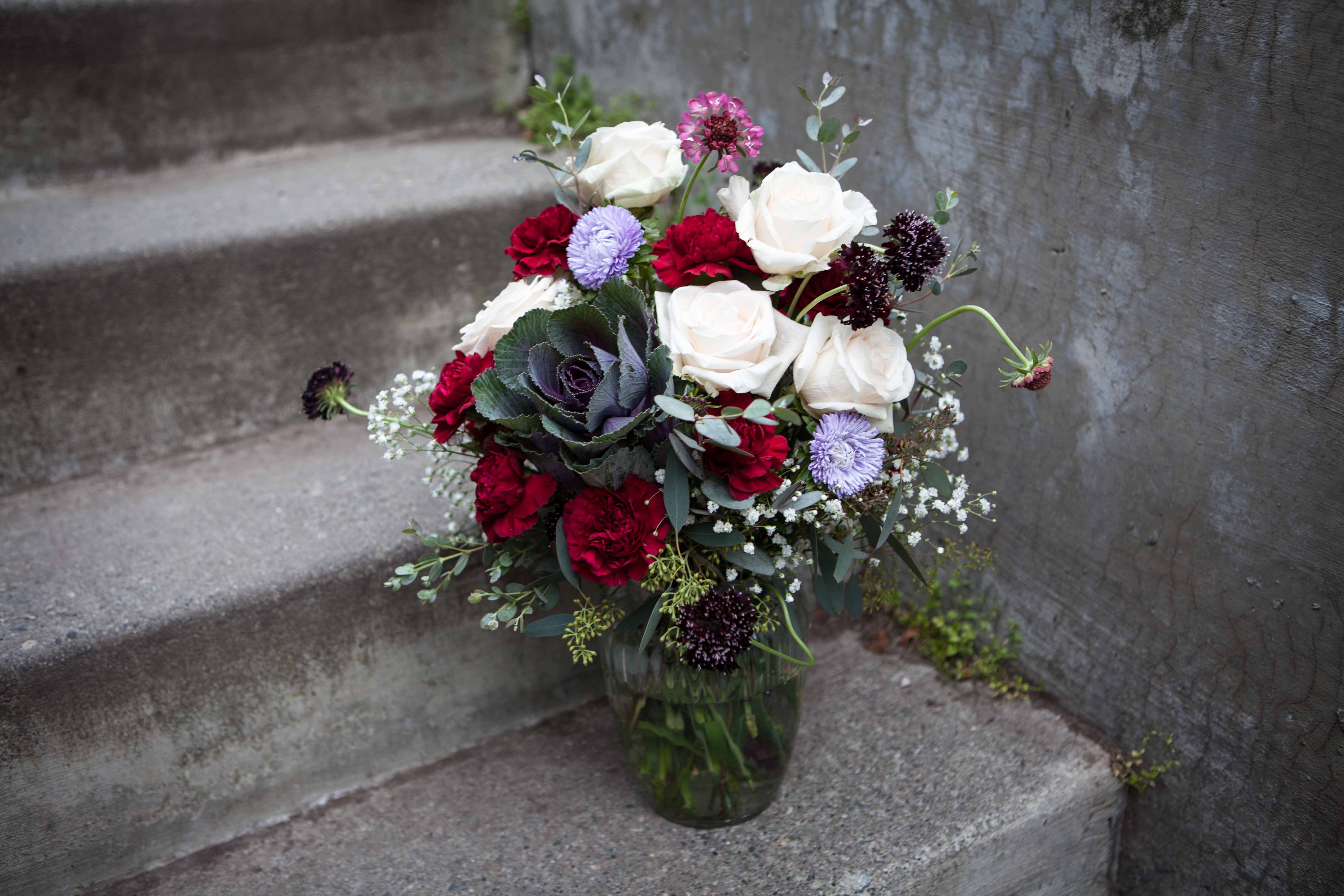 Pristine roses, ruffly carnations and an unusual focal bloom in a tall vase. Much like the neighborhood for which it is named, this makes for a diverse arrangement.
Order Me!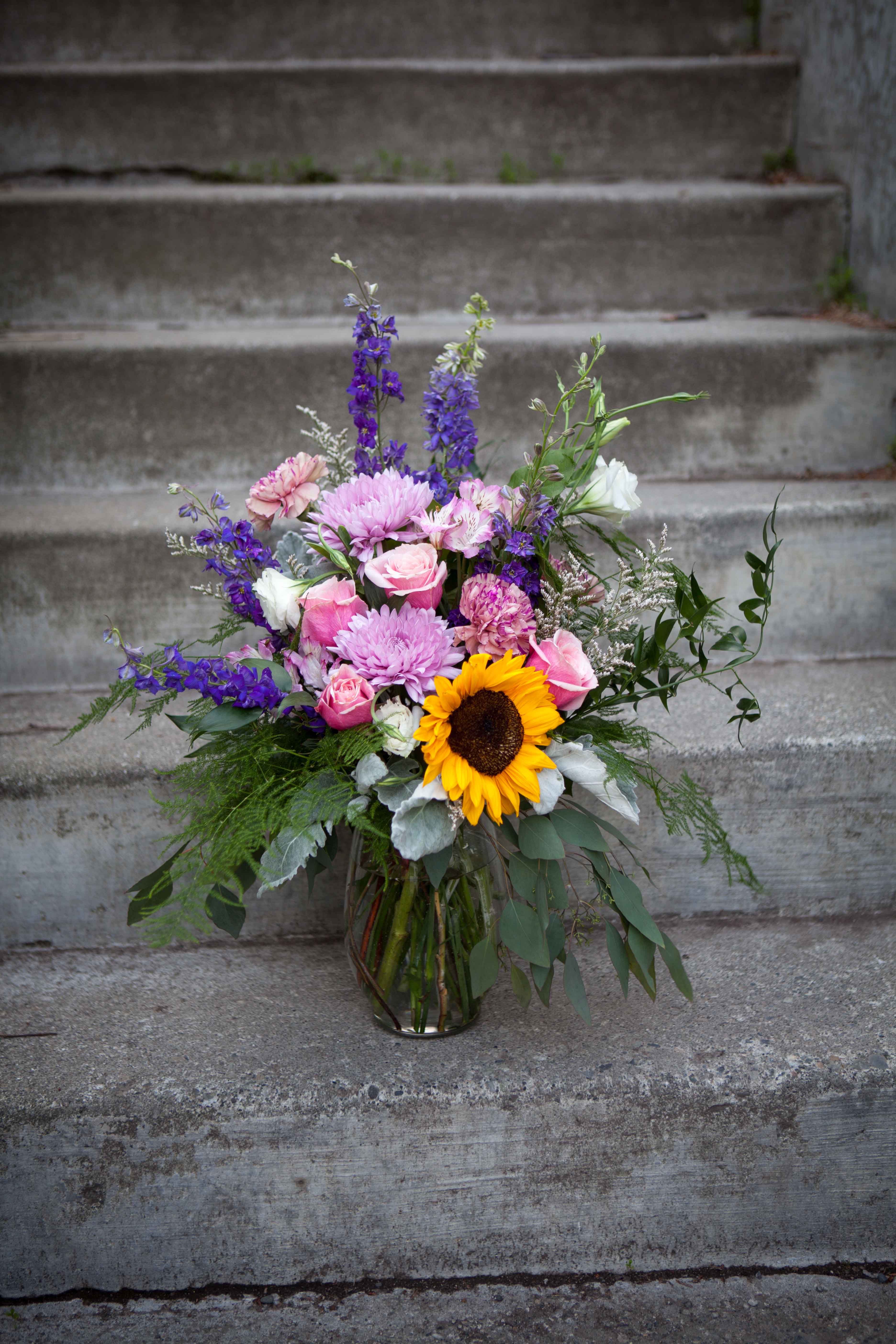 Classic roses, beautiful larkspur, and a hint of the unusual, this sophisticated arrangement is a lovely way to tell a loved one "I didn't forget our anniversary, see?!" This arrangement comes in white, pink, and purple hues. Let us know what you prefer!
Order Me!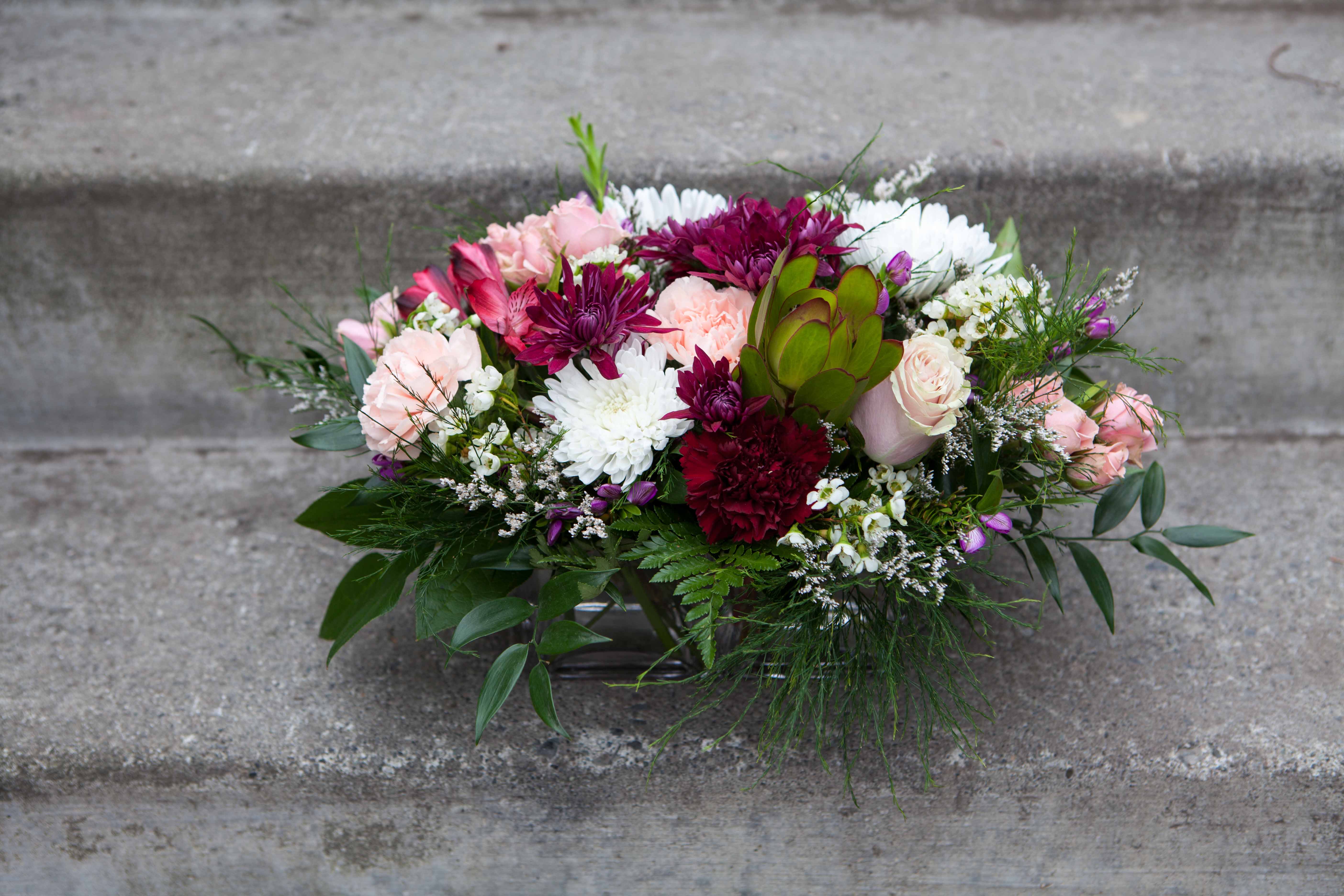 Hosting a dinner party and don't want the centerpiece in the way of your conversation? This is the bouquet for you. Designed in two, 4-in cube vases, this playful arrangement is long and low. Just perfect for gazing at from above. Let us know what colors you prefer!
Order Me!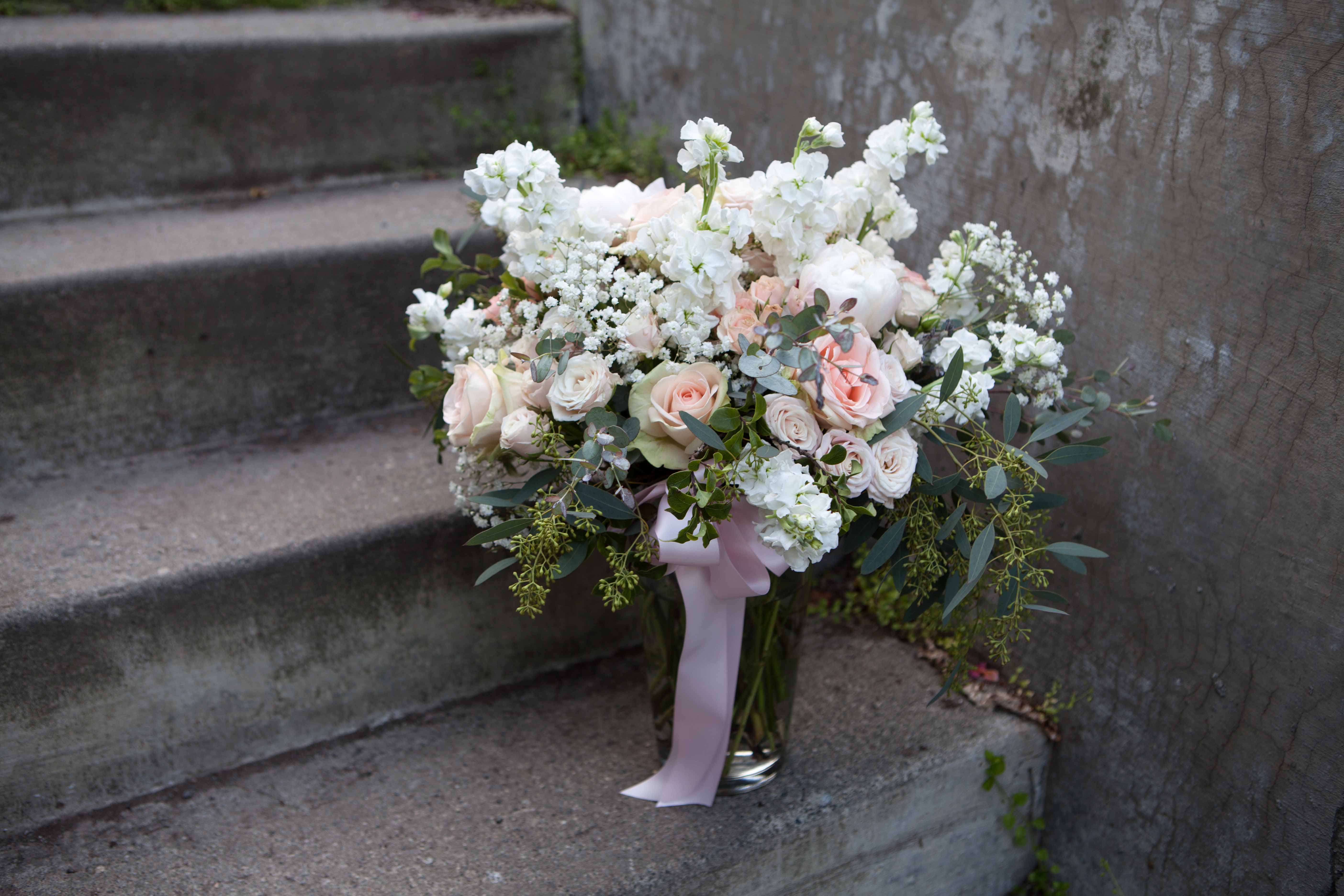 White and pale pinks hues with a touch of baby's breath gives this enormous bouquet a wintry quality. Perfect for memorials, significant birthdays or those "I'm super duper sorry" moments.
Order Me!
Have a fresh bouquet of flowers delivered weekly, bi-weekly or monthly. Each arrangement is designer's choice. Blooms and colors will vary depending on the season. This is a wonderful gift for a long-distance friend or a way to treat yourself at your office or home. Each arrangement is one-of-a-kind and often will include extra blooms at no additional charge! Currently delivery is available in downtown, midtown and south Anchorage. Contact us for quotes and let us know the frequency of delivery.
Order Me!
Delivery is within Anchorage only. Delivery fees vary on location. We accept cash, local checks, PayPal* and credit cards*.
*Subject to a 3% fee.