I love testing my limits. Yes, it is exhausting at times, but I always learn from the experience. When Rebecca of LaBoum Events asked if I was interested in doing a wedding with a flower wall, I jumped on the opportunity.
Vern and Sandy wanted a lot of greenery in their floral arrangements. Their wedding was at the Alaska Native Heritage Center. The ceremony overlooked a beautiful pond and the reception was in a representational longhouse, which looked like a giant log cabin. Their decor was greenery and gold – like a magical fairyland.
The bridal bouquet was a showcase of fluffy, white peonies, delicate Queen Anne's lace, roses with just a hint of peach, eucalyptus, ferns and twinges of gold.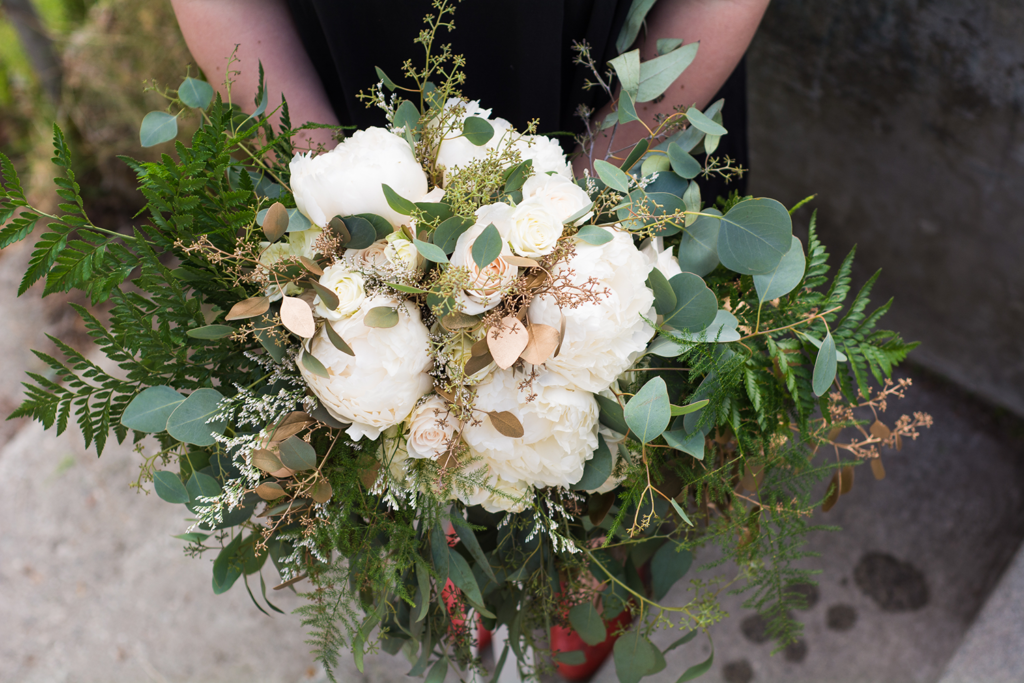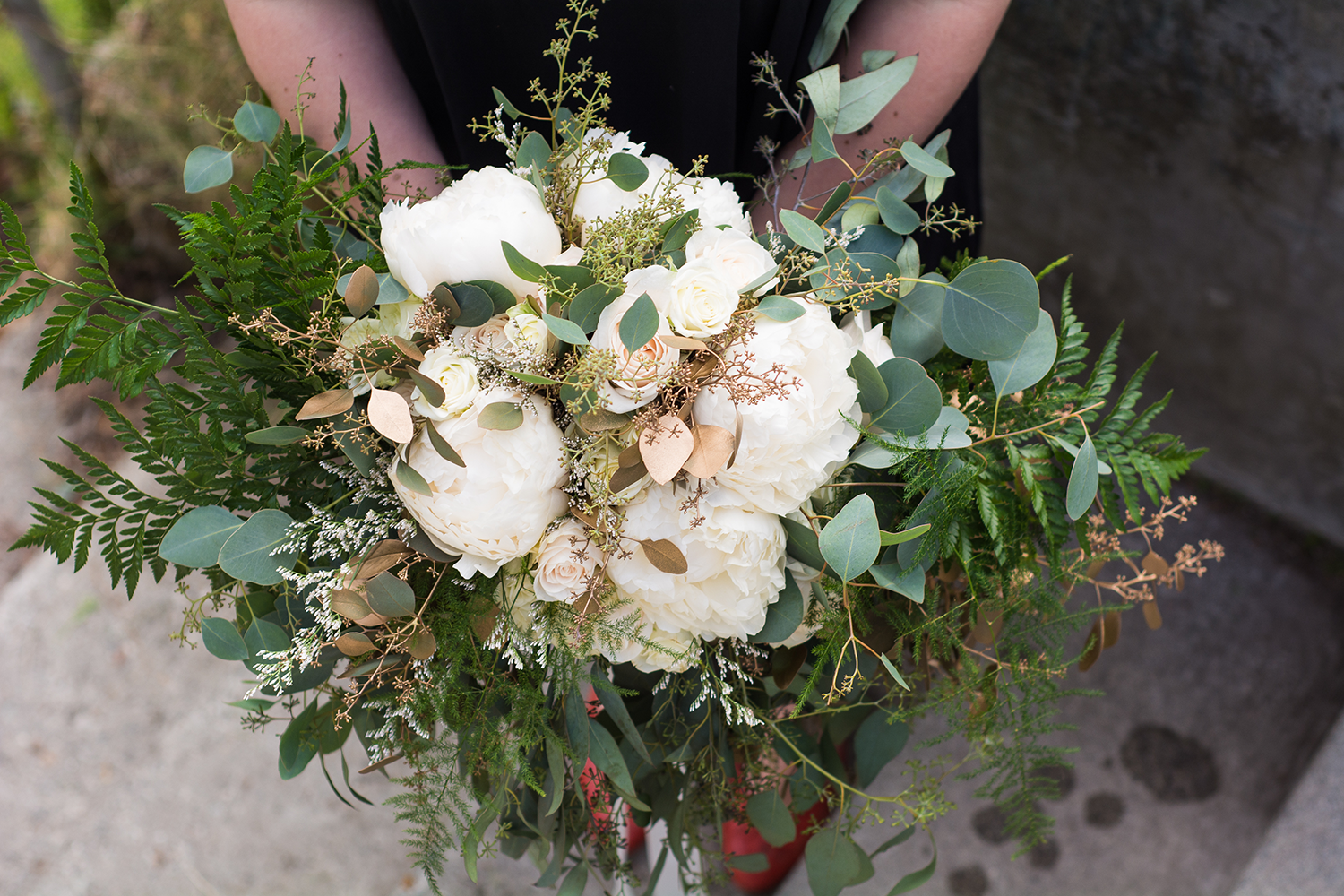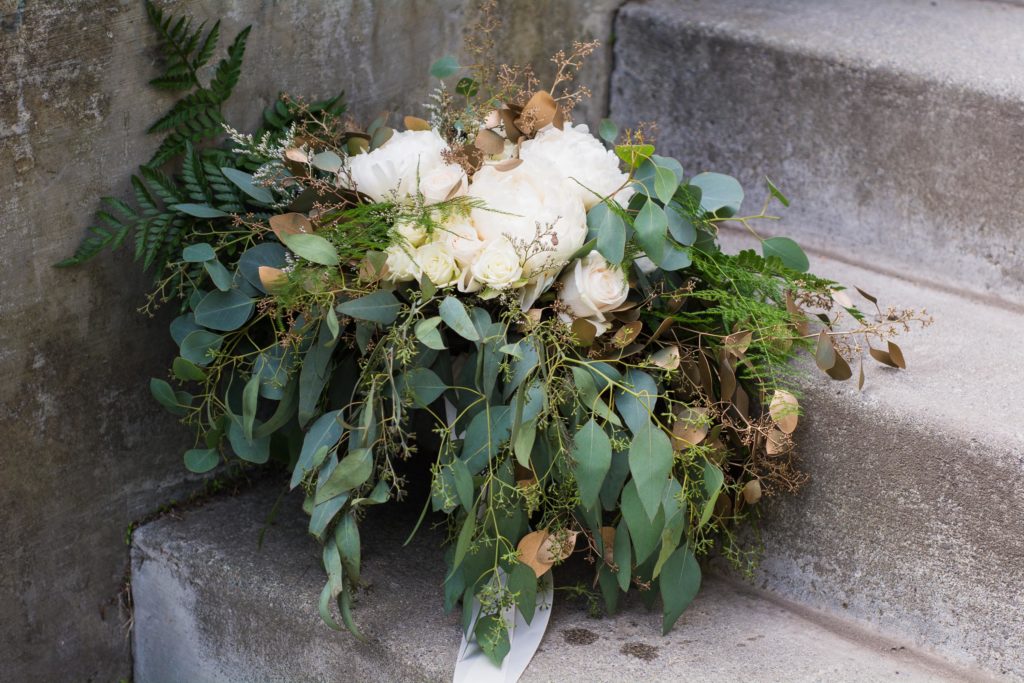 I made sure to add one peony in the back of the bouquet for the bride to smell.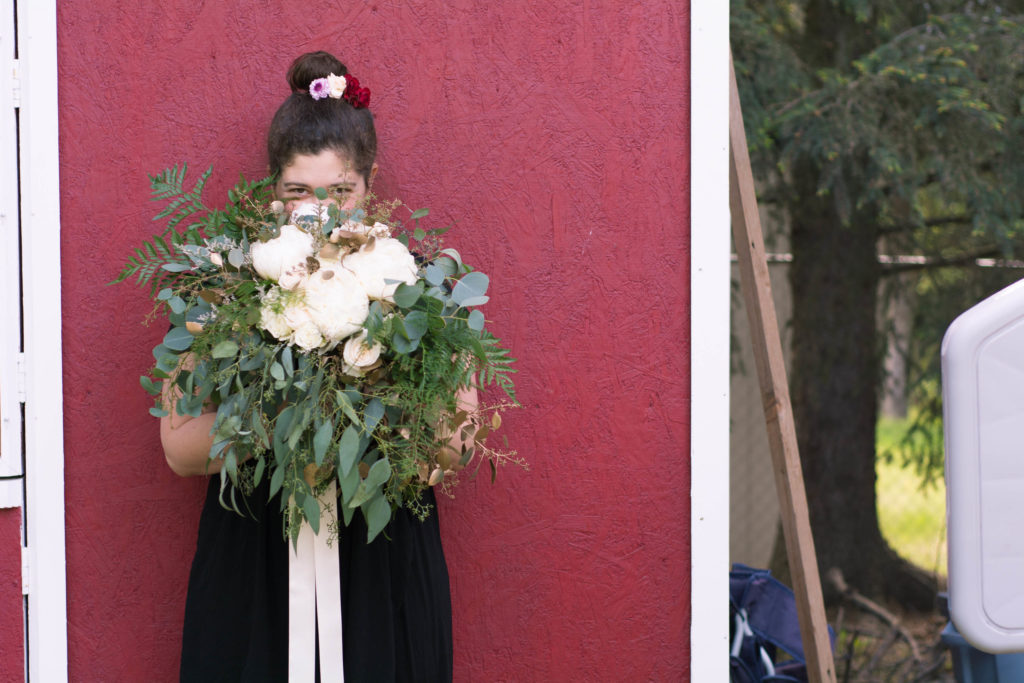 I ordered the show-stopping peonies from out of state and my wholesaler sent me an extra one, so the bridal bouquet got to share in the peony party as well.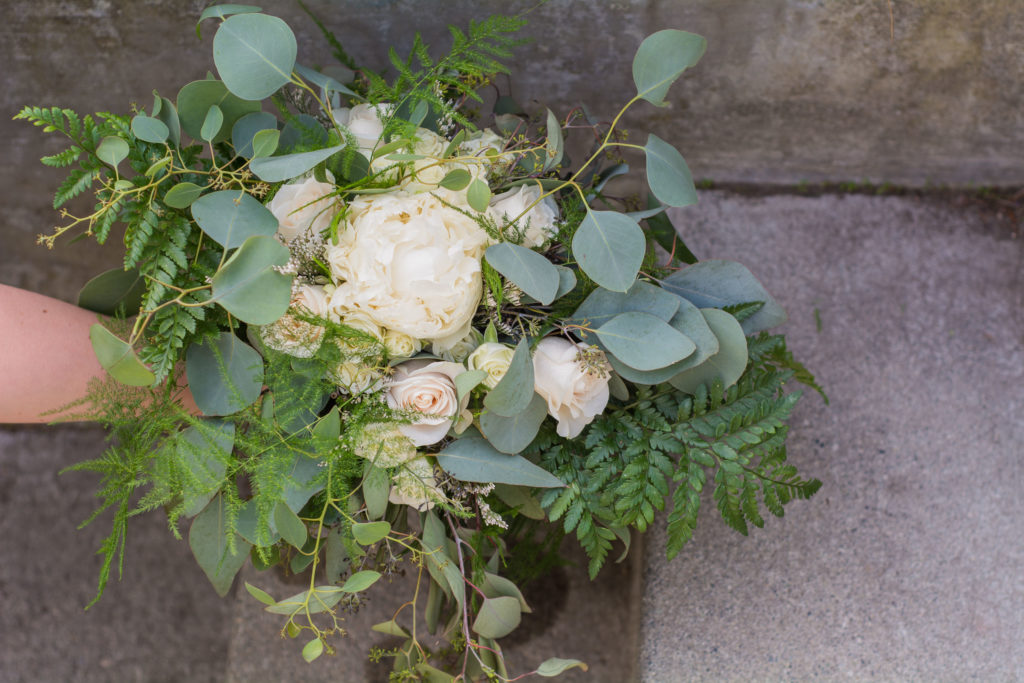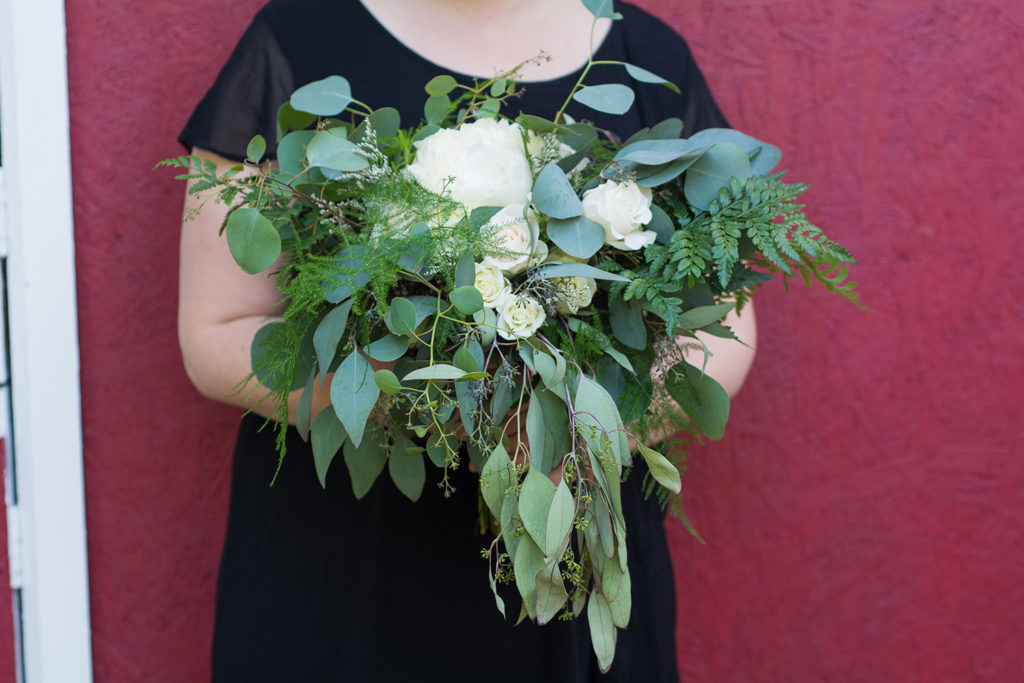 The boutonnieres had hints of gold in them for a special touch.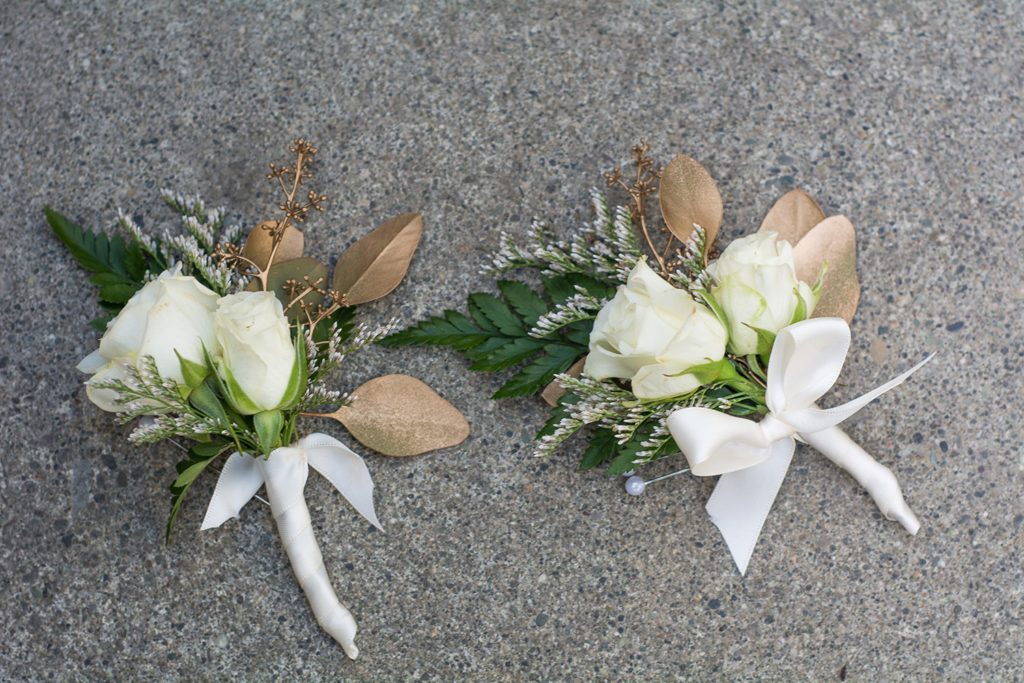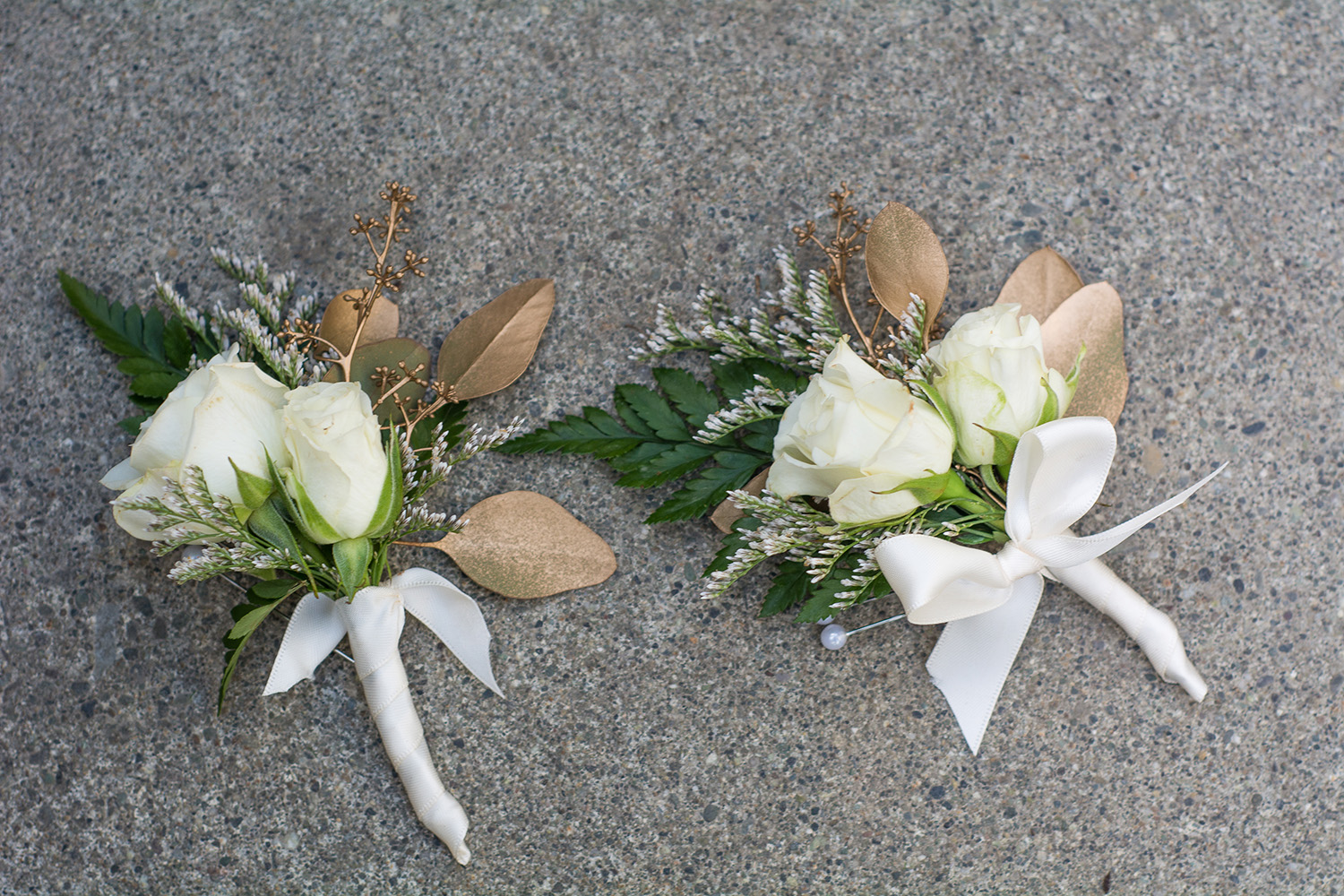 The ceremony was to be outside and the bride and groom wanted aisle arrangements that were wild and unkempt.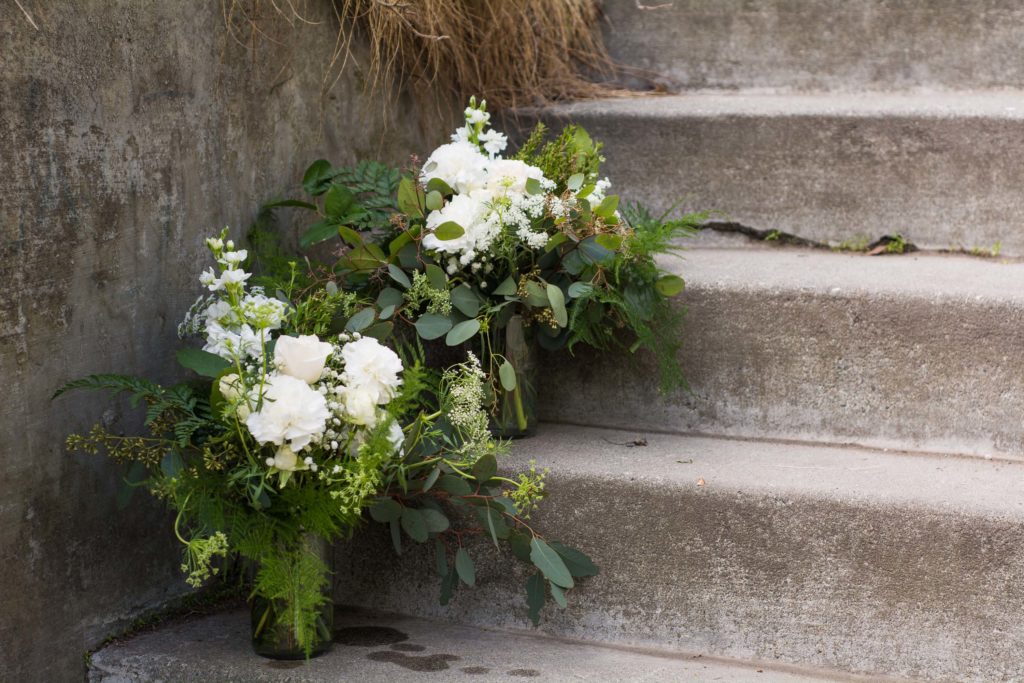 I love how they turned out. Some of my favorite centerpieces.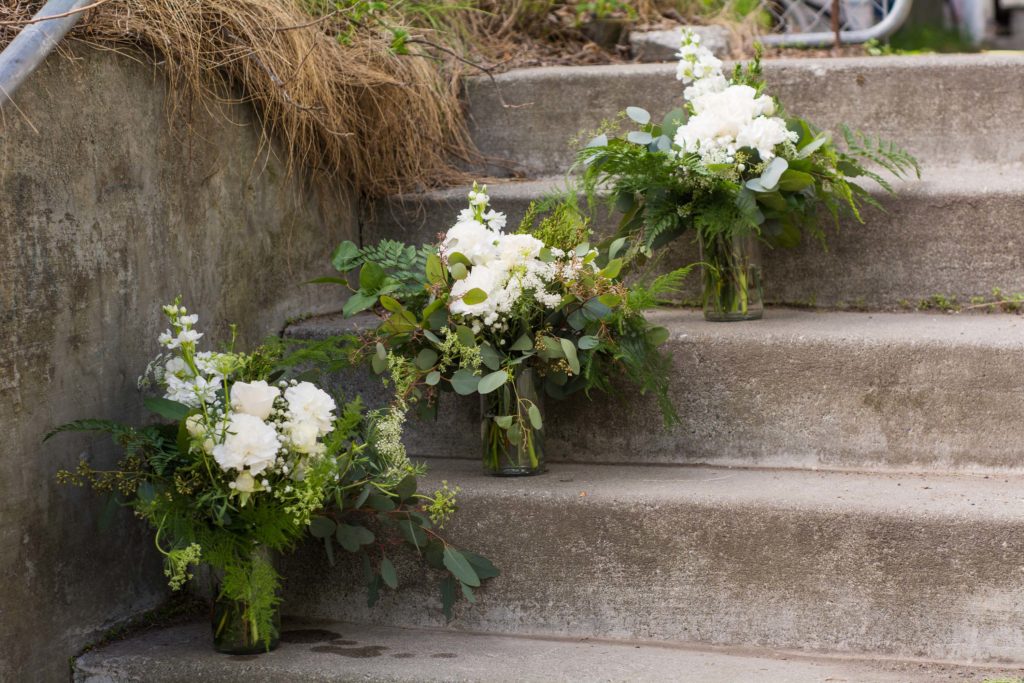 For the ceremony I enlisted the assistance of Kate of Simple Petal. There were on-site elements I wasn't able to accomplish alone and I knew Kate and I would work together well. We created the most lovely arbor for Vern and Sandy to say their vows under. Too bad I forgot my camera chip, but here are some iPhone photos.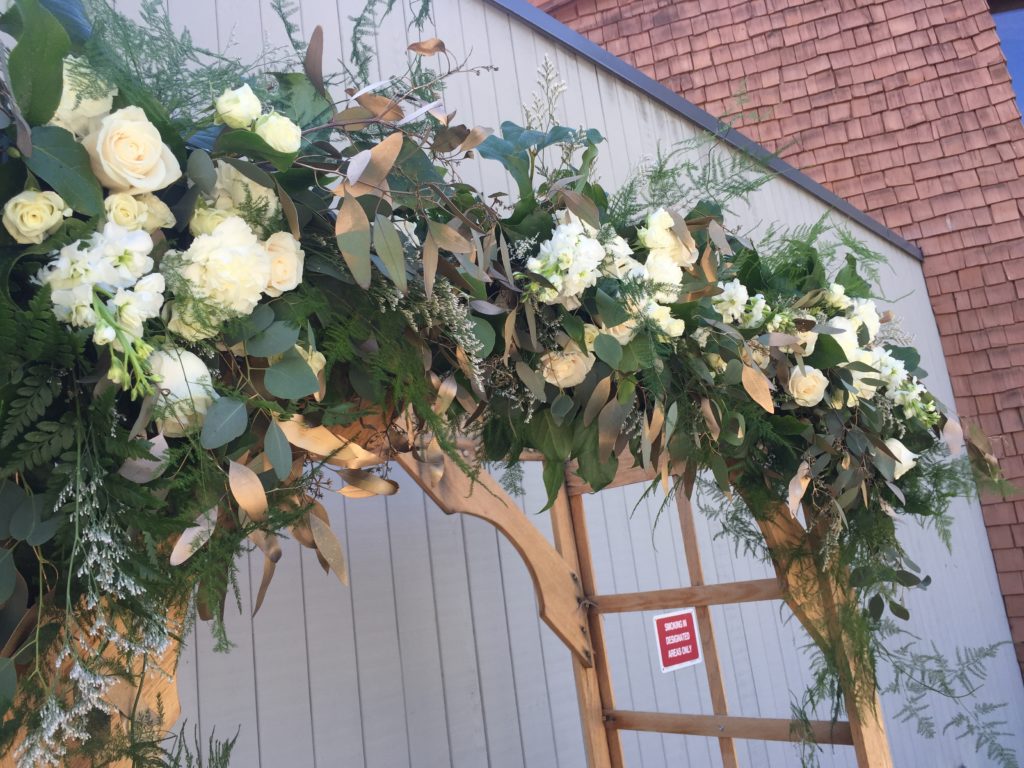 Stock, roses, carnations, limonium, gold eucalyptus – it all draped so naturally. And the plumosa fern floated above it all in perfect harmony.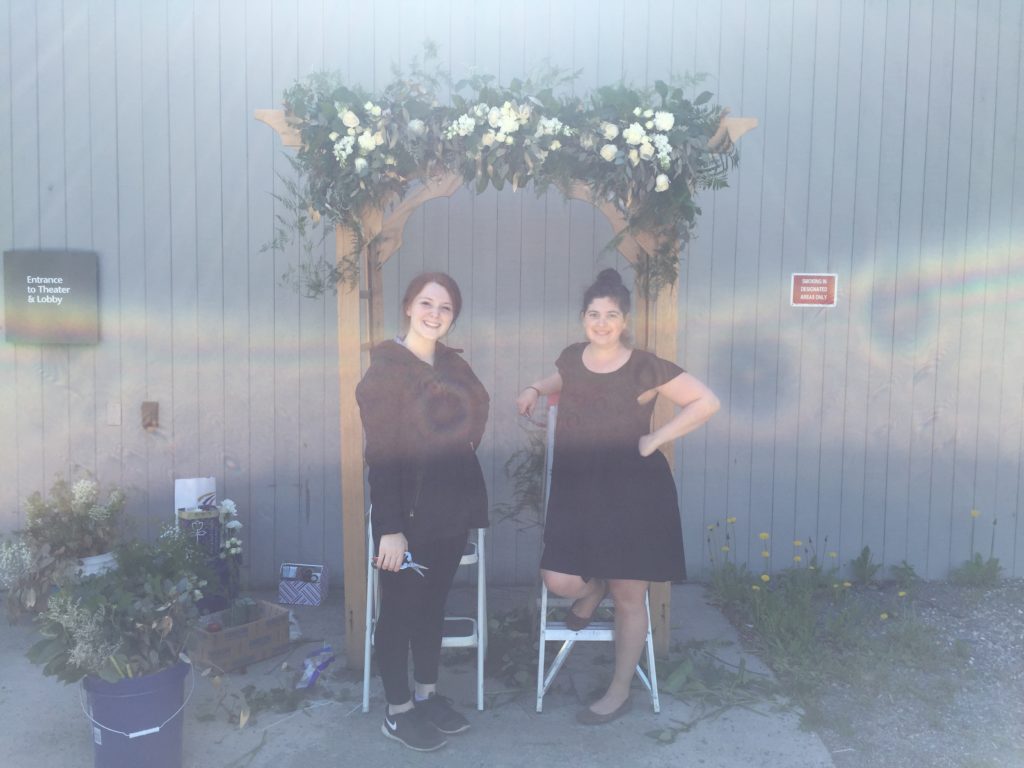 Thanks so much to Kate and her husband for the heavy lifting. Transporting flowers is a tough job! After the arch, we made our way to the longhouse for the flower wall.
We draped 15 feet of eucalyptus garland to the feature wall that was wired with roses, carnations and baby's breath. Then I draped another eight feet of eucalyptus behind to create a dreamy feature. It was hard work but definitely worth it. (Check out Lauren Parker Photography's slide show for the full effect of the wall).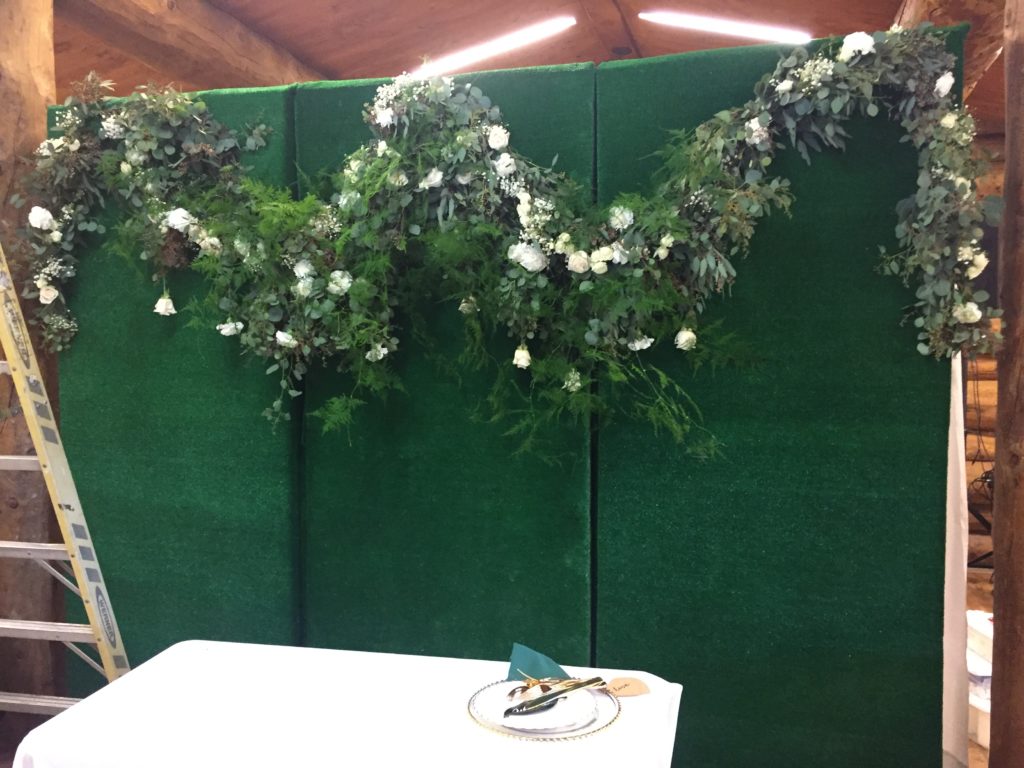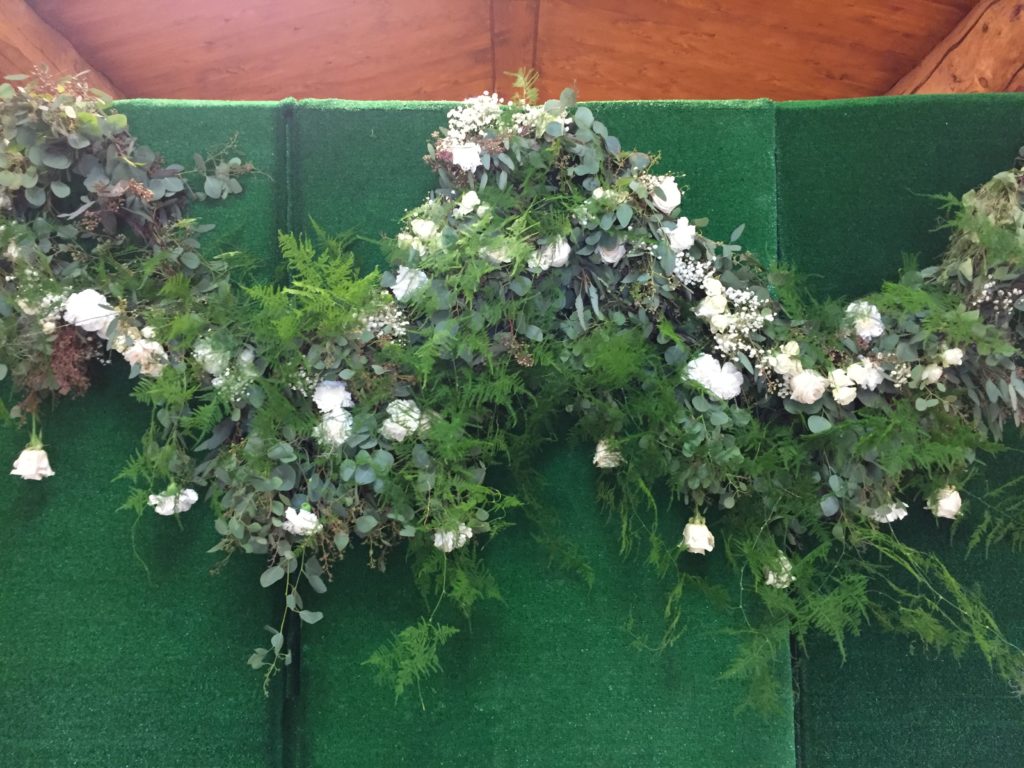 The tables were lined up end-to-end so naturally they needed long garlands along the centers. I absolutely loved the table settings: each plate had a magnolia leaf with the guest's name hand-painted in gold. Just to die for!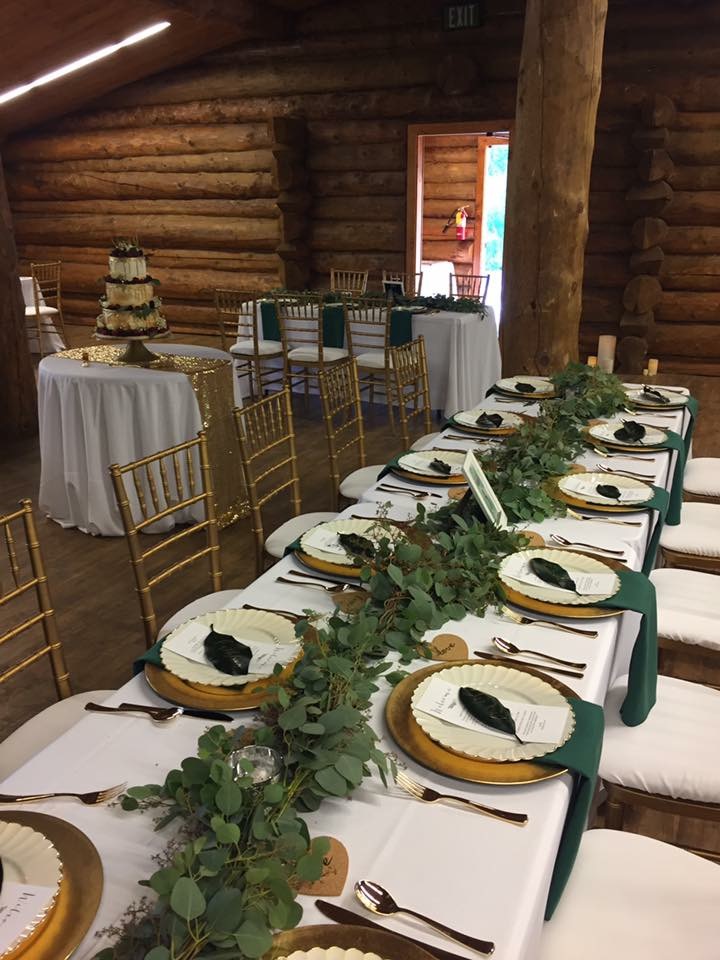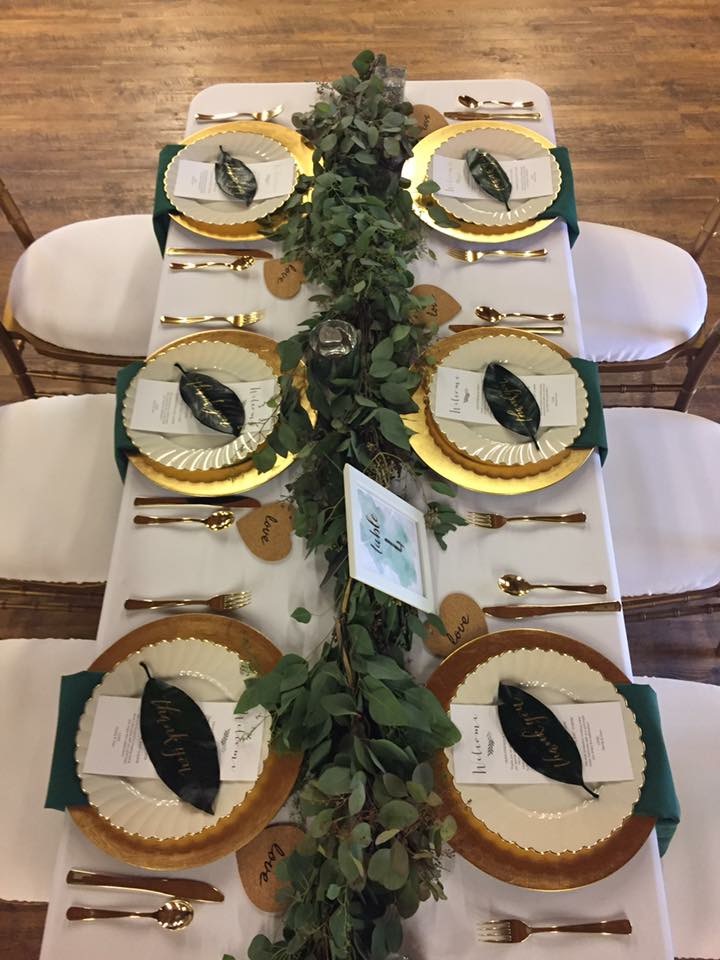 The next day the bride and groom had photos taken at Beluga Point and I made Sandy a special flower crown that was packed with tiny white roses.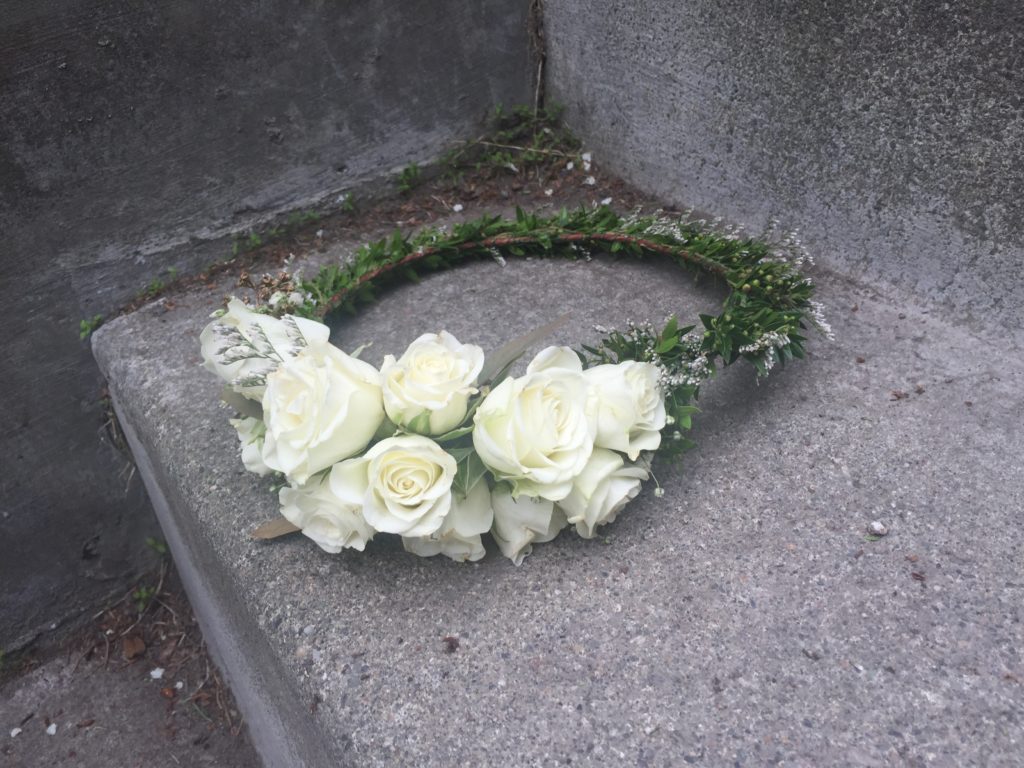 Whew! It was an incredible wedding and I'm so glad I got to be a part of it! Congratulations to Vern and Sandy.